The year 2020 was a rollercoaster for the whole world. While writing this article, the pandemic is still very serious. Hopefully, in a year or two, we will have it much easier.
I am grateful that I've chosen the career as a developer so, financially speaking, I had a really good year. I was able to hit 6-figures in profit!
If you're interested in my previous review, you can check it out here. I am not trying to keep everything in chronological order but more in a categorized way. I'll write about what happened or is still the same with:
Jobs & Freelancing
The year 2020, before the pandemic started really good. I was able to convert a client work into a retainer contract.
Throughout 2020 I have worked mostly with StayNTouch, Grow Development and Vivant.
In the middle of 2020, StayNTouch had to be sold due to the Trump executive order. That resulted in my hours being reduced to 20% and thus I could work only 8 hours/week for them. It was a shock, but as we knew about this executive order several months before, I was kind of prepared for such an outcome.
I was also lucky enough that Grow Development jumped in and increased my hours for their clients. With both Grow Development and Vivant, I was not afraid and not stressed too much about it.
Good thing is that somewhere in September, StayNTouch was transferred to another group/company and we are back in full working mode again 🙂
At Grow Development, this year I was focused on working for their client rather than working on their Shop Plugins. That was also great since I was able to learn so much more about WooCommerce Subscriptions.
By the end of 2020, at Vivant, we launched vivant.eco. At Vivant, I am working as a Laravel developer so I was able to learn a lot more about Laravel. In 2019, I worked for them on Chateau de Pommard and was invited to work on Vivant as well.
Along with all the client work, I also jumped on two Codeable tasks that brought about $1,400 in total.
With both my freelancing and plugin income, I was able to earn my first 6-figures (in profit).
Plugin Business
Regarding the plugin business, I am not too happy with it. I am happy to have products on which I can work and grow as I want to, but the growth is more of a flat line now.
Still, I want to keep working on my plugins because I have much more features in the plans for some of them that could help me grow as a developer as well (example: using React to write parts of it).
Simple Giveaways
This is still my main plugin and the one that drives most of the revenue. The plugin is still only on 1,000 active installs on the free WordPress repository.
Based on the data from Plugin Rank, the actual number of free active installs is 1,200. Would love to make it up to 2,000, but it seems that I have a lot more work to do for that to happen. I guess I am not good at marketing 🙂
In 2019, Freemius statistics says that there were 1,568 opted-in sites and the gross revenue was $9,242. In 2020, opted-in sites are 1,401 (-10.65%) and the revenue is $8,384 (-9.29%).
So basically, the 2020 was about 10% worse than 2019. Nothing to worry about as I am not thinking of selling it. But I would really love in 2021 to get it to 10-20% increase.
In 2020, I hired Maddy Osman to write more articles for me. I also hire a friend of my wife to write 2 articles just to get something more to publish here. I plan to hire Maddy every 2 months or so for a new article.
My main competitor, which is RafflePress is at 10,000+ active installs on WordPress repository. This does show me that there is a need for such plugin so I need to work much better. I can't really compete with them due to their marketing and team.
But I did realize that they have a really simple UX on building a giveaway so I plan to release a wizard and also a drag'n'drop feature for managing giveaways.
Live Scores for SportsPress
This plugin is still active, but it dropped from 600+ to 500+ active installs.
The gross revenue from this plugin in 2020 is $1,278 which is a growth of 29% from last year. Even with lower number of installs, I was able to get more revenue. My guess is that some of those active installs that got lost are premium users that deactivated the free plugin.
I plan to create a separate "live" page for each match which will be built with React and have a look similar to the FIFA app so it's optimized for mobile phones as well, so people can manage their events even easier.
Other Plugins
I have several other plugins and here are some stats for them:
Change Prices with Time for WooCommerce – grew to 300+ active installs. The gross revenue from this plugin is $243 which is lower by 45% from last year. That's bad revenue growth, but it's an interesting plugin 🙂 The lower revenue is because in 2019 there were several lifetime purchases.
Simple Sponsorships – This plugin grew to 100 active installs and I was able to create subscription-based sponsorships as premium. This plugin also generated $530 in gross revenue which is an increase of 562%.
Sponsors – I bought this plugin for $500 since it has 5,000 active installs. This is also a new of channel for marketing Simple Sponsorships.
For other plugins, please check my profile.
So if I sum up the whole revenue from all the plugins in 2019 and 2020, I get this:
| Year | Revenue |
| --- | --- |
| 2019 | $10,866 |
| 2020 | $10,671 |
With that revenue numbers, my plugin business revenue did not change much. Only 2%.
Site Growth and Teaching
In 2019, I said that I almost hit my goal of 24 articles in a year. In 2020, I think I've written even less than in 2019. That is mostly due to more work with my clients and so I had less time to research topics, write code and also write tutorials to cover it.
Also, the whole year passed really fast even though we had much less things do to 🙂
I was able to write 13 articles out of 24. That's pretty bad. And 2021 started similar so I have to organize myself better and write at least 3-4 articles in the following months to get back on track.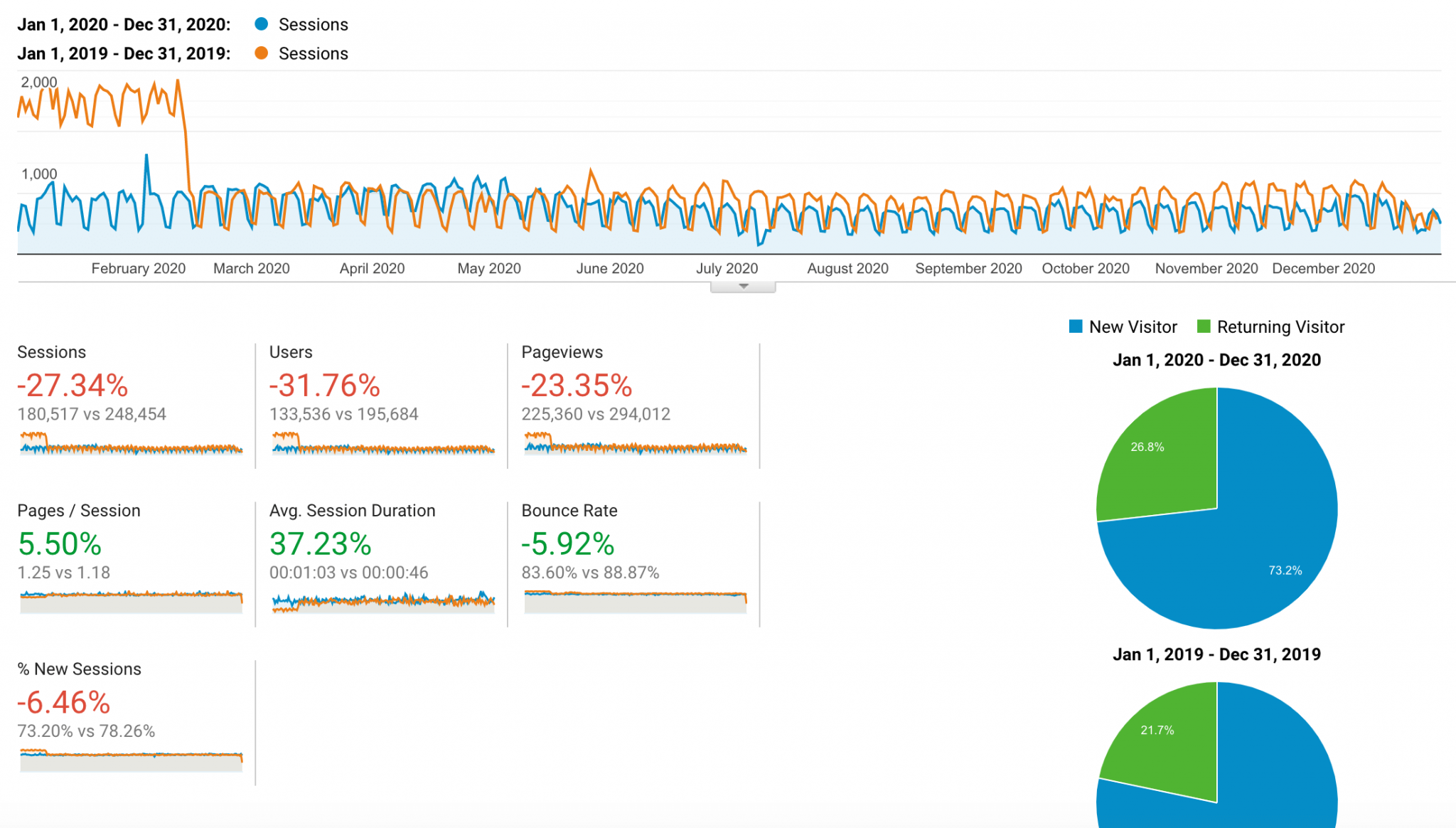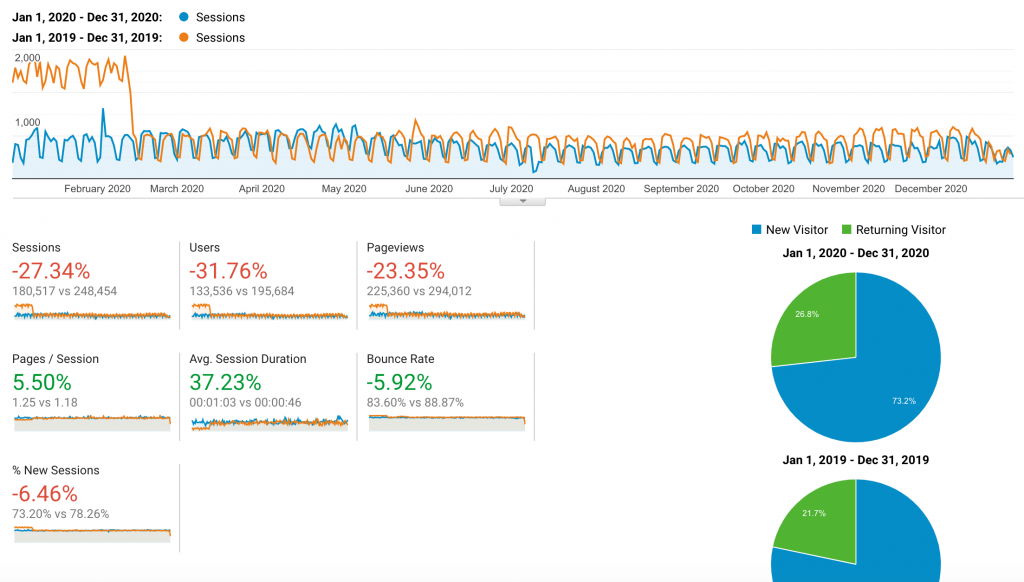 There is a slow decline in the site growth but as we can see, the 2019 was really great on January and half of February. After that, 2019 and 2020 are pretty much the same. I'll have to see what I was doing at the beginning of 2019 😀
A positive thing is that people are reading more pages per session than in 2019 and the duration increased up to a minute on average. The bounce rate reduced as well so it might be an indicator that people are actually liking my content even more than before.
The US audience dropped by 72% in sessions so I either have to get better and getting that back or I did not have the correct filters set before that included bots. Not sure, I guess, 2021 will have more accurate. That audience is now in 2nd place of most visits where audience from India jumped to the 1st place.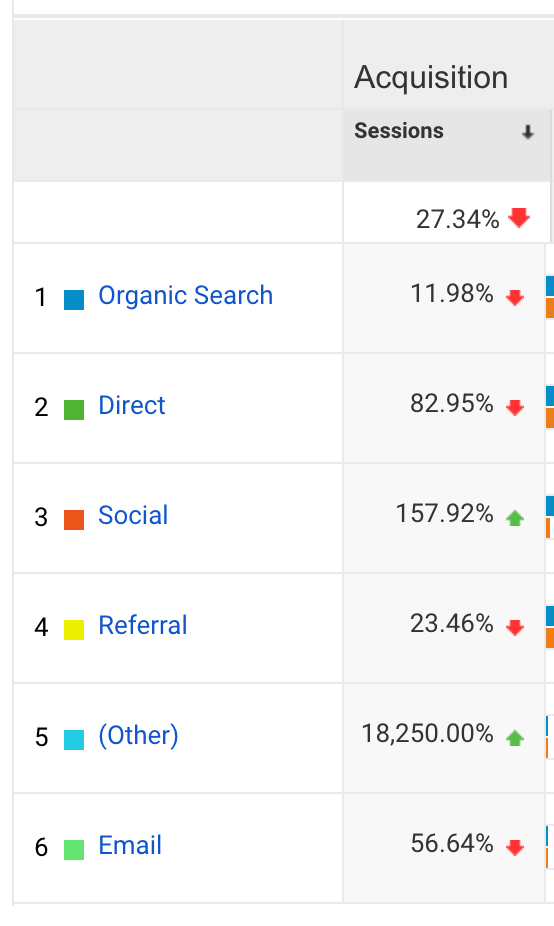 The organic search is still the 1st place from where my audience comes and I am happy with that. It did drop by 12%, but I am not afraid of that.
The one thing that changed is the Social surpassing Referral traffic. This is something I changed from 2019 where I invested in Revive Old Posts plugin so my content gets posted automatically on Twitter, Facebook and LinkedIn. I guess, it worked since the increase is almost by 160%.
Let's now see the most viewed articles in 2020:
In 2019, 3 of these 5 articles were also the top ones 🙂 And I see a trend here: WooCommerce.
Memberships
I am still offering memberships for $3/month or $30/year. I was thinking of involving more membership benefits such as 1-on-1 calls and such but did not have time to plan it all out.
I was a mentor on MentorCruise for one guy starting his developer career and I liked the 30-minute 1-on-1 calls we had.
My plan for running Giveaways here did not go well. I was all over the place due to work and I hope to make this happen more in 2021-2022.
So, in 2019 the revenue for memberships was $705. In 2020, $1,059!!! If someone has asked me, I would say lower than in 2019. So this was such a pleasant surprise.
I realize that my whole organization of content for members is not a good experience. I started tagging my content so members can find all the articles that have a code that can be downloaded: https://www.ibenic.com/tag/with-member-code/.
The whole on-boarding of members is bad. I need to implement an automation there with a few emails to help them get ready with content and code.
Webinars that I offered for free to my members are still on-hold. I plan to buy a new MacBook Pro in 2021 which should run webinars with ease. I realized I could create members-only videos.
Courses
Even though I had now an office where no one could bother me, I was having a hard time finding time for going to office and records new courses.
Because of the pandemic, a lot of people were laid-off, got fired and some were trying to find a different career path or improve themselves. So I offered my "Become a WordPress Developer" course for free through resources on Post Status.
I do sell this course on Udemy as well and I got up to 130 students there at the time of writing. Even with that, I don't get a lot from it. Every few months I get some $10-20 from Udemy.
eBooks
eBooks are one of my first passive income strategies and I still really like them. I have not updated some of them in 2020.
In total, my eBooks brought about $588 in revenue. My most popular eBook is "WooCommerce for Developers" and that one brought in about $469 in revenue.
Investments
I am still a member of Post Status which costs $99/year.
The plugins that I've renewed are:
I still have an Audible subscription although I might change that soon since I do not use it anymore that much.
I've joined the Feast Club when it started so I have a $5/month plan on that and it's packed with value.
I also bought the course https://mastergatsby.com/ so I can learn about using Gatsby. Have not yet finished it, but it's an interesting software.
Personal Life
Personal life was a bit slow. We enjoyed 2020 in January and February going skiing and had the Rijeka Carnival. But then, the pandemic started in Croatia and we went into a lockdown.
I was able to train and when some gained weight I was actually able to lose 1-2kg (at the time of writing I regained that + a few more kilos 🤦‍♂️ ).
In the mid of 2020, we again cleared the terrain where our house should be. But that was it until the end of 2020. Then the terrain preparation began and I'll have some cools photos for the 2021 year review 🙂
I realized how much we take for granted during this whole pandemic. Something like skiing that was just there, a 1-2 hours drive. But now, that is something that I miss so much. Also, in 2019 we went on a 1,300km road trip to Spain and wanted to repeat that in 2020. That also had to be put on hold.
Seeing how people had lost their jobs or had their finances dropped by a lot during this pandemic, I am even more grateful than before on having a career as a web developer.
In 2020, Croatia was also hit by a few scary earthquakes. In Zagreb, 5.5 in magnitude. And then right at the end of 2020, around Petrinja (6.4 in magnitude), several days in a row. Here is a video from the day after the first one that happened on live TV. Even a colleague of mine felt it from Ljubljana in Slovenia.
2021 Projects
I always like to have something new to think about so for 2021 I have another list.
create a Simple Giveaways 3.0.0 version with a drag and drop builder. The first step will be a setup wizard for each giveaway that can be started manually,
update my Simple Cart plugin with a better design,
separate WooCommerce tutorials site with short courses (charged monthly). Interested? :),
try to build one more plugin around payments,
make a system for onboarding new clients and delegate tasks,
experiment with TikTok for education on WordPress/developer career
A few projects that have already been built are:
Review Years – the year in review articles
Get Active Installs – calculate the exact active installs for your WordPress Plugin on the plugin repository
Get on Cast – a No-Code experiment to list podcasts where you can get on as a guest or sponsor
Conclusion
2020 was definitely a rollercoaster for the whole world. Personally, the most things I miss in 2020 are gatherings with family and friends. We had an easy 2020 from May to October, so we were able to meet and socialize.
I told my wife 5-6 years ago that I want to earn 1 Million HRK (Croatian Kuna) by the time I am 30. Well, I missed one year, but I was able to bring in 6 figures in a year by 31. In that part, 2020 was a success.
I hope that I'll finally set a good system as I already invested $500 in a course on automatic clients. I want to keep working as Igor Benić for my current clients while slowly getting new clients and delegate that to someone else, so in a few years, I have a team and I don't have to worry about going on a vacation 😀
Become a Sponsor